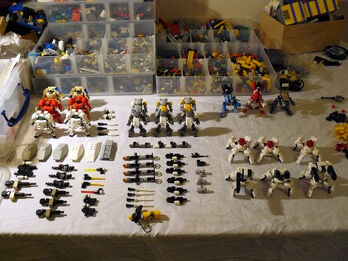 Builds serve to identify frames' origins and purposes. Differences in build styles allow players to make their frames distinct and personal. This page contains resources to help players find good builds and design their own.
Feel free to make pages for your own builds and add links in the Frame Designs section.
Digital Tools
Edit
There are many programs available for designing LEGO models. These allow creation, viewing, and manipulation of a digital model.
LDraw - Home to the LDraw library and .LDR format, which allows full step-by-step instructions. Note that LDraw editors require the LDraw digital parts library to be installed.
Mecabricks - Design LEGO models from any WebGL-enabled browser and save them in the cloud, no download required. Note that Mecabricks is not compatible with LDD or LDraw, and has far fewer features.
Cool Robots by Sean Kennedy - a great little book with lots of LEGO robot builds (including a transforming truck). There are a number of robots suitable as frames, including a nice step by step instruction section that shows how to build the inner bits.
Frame Designs
Edit