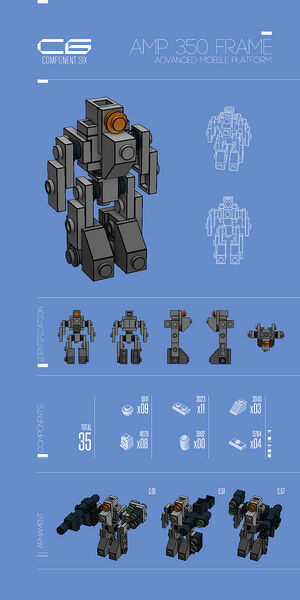 The Component 6 (C6) is a design system meant to simplify the acquiring of necessary parts to build a company for Mobile Frame Zero: Rapid Attack.
The primary advantages of the C6 system are:
Only six different types of LEGO bricks are needed (hence the name).
The total number of pieces needed for each mech/vehicle design is (relatively) low.
The six types of bricks used are common pieces, found in many standard LEGO sets.
This allows parents to plunder their kid's LEGO bins for resources and not come up empty handed. It also makes purchasing LEGO online a little less daunting (and less expensive) since there are only six kinds to buy.
C6 Parts List
Edit
| Part Name | Common Name | Lego Category | BrickLink Category | Brick ID # |
| --- | --- | --- | --- | --- |
| Round plate 1x1 | | Plates, Special | Plate, Round | 4073 |
| Plate 1x2 | | Plates | Plate | 3023 |
| Plate 1X2 W. 1 Knob | Jumper plate | Plates | Plate | 3794 |
| Angular Brick 1X1 | Headlight | Bricks, Special | Brick, Modified | |
| Round Brick 1X1 | | Bricks, Special | Brick, Round | 3062 |
| Roof Tile 1X2/45° | | Bricks, Sloping | Slope | 3040 |