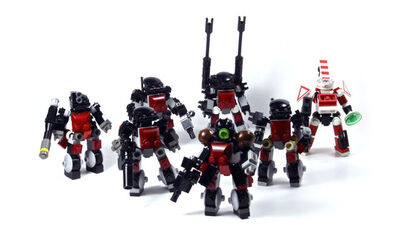 Estar's Anvil is a United Mars Foreign Legion (UMFL) company originally from Gursk.
The company's Martian founders are unknown and is named after its current commander, Captain Cahide Estar. Estar is a native of Gursk whose decisive but tempered leadership brought the Anvil many victories. The company eventually proved so effective that the UMFL headquarters on Mars chose to mobilize Estar's Anvil to support other systems.
SC 02??: Location Unknown Estar's Anvil lost, and were extracted along with several other Legionnaire companies, including the Hurro Family company. After extraction the companies were sent to Murrsh aboard the Manifest Destiny. During transport Estar's Chub was repaired for muscle cylinder problems in the left leg.[1]
SC 0245: Battle of Enniot City, Boussht Estar's Anvil engages both Free Colony and Ijad elements before heavy loses force them to retreat.
Personnel and Equipment
Edit
All personnel in Estar's Anvil pilot ST-07 Chubs.
Captain Estar prefers to lead her company from the front, frequently stressing her frame's durability to its limit as she takes great risks in order to give her Legionnaires the best information she can. Estar has earned a reputation for getting the mission done as well as being serious about leaving no Legionnaire behind.[2] She pilots a custom ST-07Ag Chub modified with a head turret originally from a ST-09 Rumble Monkey and a double armored skirt.[3] Estar's Chub is armed with a SMG and always keeps a shovel stowed on her backpack.[4] During the fighting for Boussht, Estar made use of a riot shield, but dropped it during a battle where later a Free Colonies' fighter recovered it.
Lieutenant Cuvie [5]
Mokrani is one of the company's two crack snipers and typically fighting alongside Koenig. His frame is equipped with a standard armored skirt and back mounted radio. His primary firearm is a sniper rifle, though he has been known to use a "Thumper" grenade launcher.[6]
Koenig is new to Estar's company and is regularly assigned the worst job: being first in to take strategic objectives. Her frame is armed with a mobile frame combat tomahawk, an assault rifle, a standard armored skirt, and a back mounted radio.
Soumer is the company's other a crack Sniper.
Kader is an heavy weapon specialist and his frame is armed with a grenade launcher, a standard armored skirt, and a back mounted radio.[7]

Sources
Main source: Mobile Frame Zero: Rapid Attack Rulebook