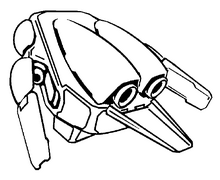 The Huet Antigravity Thruster is a specialized movement system attached to the back of a mobile frame.
Description
Edit
"
Though its use is energy-intensive, the Huet antigravity thruster is designed to allow an ST-03-compatible mobile frame to leap high into the air or sprint from cover to cover.
"

–Mobile Frame Zero: Rapid Attack rulebook , pg. 51
Technology
Edit
Antigravity thrusters have the advantage of being quieter than traditional rocket packs or jump jets but are highly energy-inefficient and tend to be no cheaper (or less dangerous for bystanders). [1]
System Loadout
Edit

Sources
Main Source: Mobile Frame Zero: Rapid Attack Rulebook